Features

18 Jan

Tighter border checks imminent and a catalogue of post-pandemic complications facing the high-speed railway's operator, the future of HS1 appears at an impasse

Features

18 Jan

Having survived privatisation and a pandemic, Britain's night-time passenger trains are enjoying a resurgence in popularity. ANTHONY LAMBERT reports

Features

18 Jan

On his retirement in 2040, veteran transport journalist GEORGE PANGLOSS looks back on the seismic changes on the railways and complementary modes of transport

Features

18 Jan

TfL's new interim Commissioner ANDY LORD tells how he would go about running "the biggest and greatest public transport organisation in the world"

Features

18 Jan

Could land value capture agreements be the answer for transport schemes elsewhere in the UK? PETER PLISNER investigates

Features

18 Jan

Legislation is delayed by six months. Some say the organisation is dead already. But the 200 people working for Great British Railways don't see it that way.

Features

18 Jan

With GBR's official launch delayed, the stage is set for the opposition to outline its vision for rail. CONRAD LANDIN reports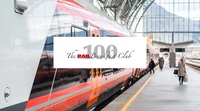 The well-respected RAIL 100 Breakfast Club is relaunching in 2022 with a new venue, a new focus and a refreshed membership offer.

Launched originally in 2003, the Breakfast Club meets quarterly in London and is known for providing an unrivalled opportunity to hear from topical speakers in a Chatham House setting, while networking with a select group of your industry peers.
In 2022/2023, the Breakfast Club will continue to offer all those things, but with a couple of important improvements:


· Responding to the new ways of working brought about by the past 2 years, registration and networking will start at the more civilised time of 8:00am, with breakfast served at 8:30am.
· Themes and speakers will be announced for the meetings in advance to give you more notice of what to expect from the meetings. Where appropriate, we will still arrange topical speakers closer to the time to join the discussion and provide updates on developing events.
· Membership to the club will be by invitation only. Members can suggest colleagues and peers to be invited to join the club. This is to ensure the membership remains a group of senior industry professionals and will facilitate useful networking opportunities for members.
Our annual membership for the Rail 100 Breakfast Club 2022/2023 is £350
Please contact Hayley Bradshaw for futher details
Find out more about this event
---