Features

1 Oct

Decarbonisation and ageing diesel train fleets are factors that need for more overhead wiring, but funding and failed projects are problems in need of solutions

Features

1 Oct

Fares and ticketing reform are long overdue. But what changes to each would be required to drive revenue growth and reinforce the value of the railways?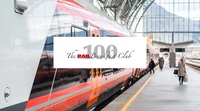 The well-respected RAIL 100 Breakfast Club is relaunching in 2022 with a new venue, a new focus and a refreshed membership offer.

Launched originally in 2003, the Breakfast Club meets quarterly in London and is known for providing an unrivalled opportunity to hear from topical speakers in a Chatham House setting, while networking with a select group of your industry peers.
In 2022/2023, the Breakfast Club will continue to offer all those things, but with a couple of important improvements:


· Responding to the new ways of working brought about by the past 2 years, registration and networking will start at the more civilised time of 8:00am, with breakfast served at 8:30am.
· Themes and speakers will be announced for the meetings in advance to give you more notice of what to expect from the meetings. Where appropriate, we will still arrange topical speakers closer to the time to join the discussion and provide updates on developing events.
· Membership to the club will be by invitation only. Members can suggest colleagues and peers to be invited to join the club. This is to ensure the membership remains a group of senior industry professionals and will facilitate useful networking opportunities for members.
Our annual membership for the Rail 100 Breakfast Club 2022/2023 is £350
Please contact Hayley Bradshaw for futher details
Find out more about this event
---