Features

29 Jun

PETER PLISNER looks at what can be done to deliver a better on-board customer environment to match the new wave of discretionary travel

Features

29 Jun

With the state having increased its hold on rail funding, private investment for rail infrastructure in particular has become a complex conundrum

Features

29 Jun

As we learn to live with COVID without restrictions on how we travel, new permanent patterns are starting to emerge. How will the railway adapt?

Features

1 Oct

After 17 years as a rail accident investigator, SIMON FRENCH reflects on the causes and effects of accidents

Features

1 Oct

Is the railway doing enough to embrace equality and diversity? ANIT CHANDARANA, Network Rail's Chief of Staff, discusses some uncomfortable truths

Features

1 Oct

PHILIP HAIGH explores how various rail authorities are navigating devolution's lack of a 'one size fits all' solution

Features

1 Oct

Social value has been an integral part of the railway since its birth, offering personal and professional benefits.

Features

1 Oct

PROFESSOR ANDREW McNAUGHTON examines the root causes behind rail infrastructure projects coming in late and over budget

Features

1 Oct

Moving transport to a cleaner, greener operation won't be easy… we'll need much more green electricity and the infrastructure to deliver it.

Features

1 Oct

Increasing the proportion and volume of electrically hauled freight requires relatively modest steps.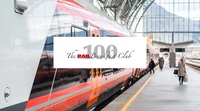 The well-respected RAIL 100 Breakfast Club is relaunching in 2022 with a new venue, a new focus and a refreshed membership offer.

Launched originally in 2003, the Breakfast Club meets quarterly in London and is known for providing an unrivalled opportunity to hear from topical speakers in a Chatham House setting, while networking with a select group of your industry peers.
In 2022/2023, the Breakfast Club will continue to offer all those things, but with a couple of important improvements:

· Responding to the new ways of working brought about by the past 2 years, registration and networking will start at the more civilised time of 8:00am, with breakfast served at 8:30am.
· Themes and speakers will be announced for the meetings in advance to give you more notice of what to expect from the meetings. Where appropriate, we will still arrange topical speakers closer to the time to join the discussion and provide updates on developing events.
· Membership to the club will be by invitation only. Members can suggest colleagues and peers to be invited to join the club. This is to ensure the membership remains a group of senior industry professionals and will facilitate useful networking opportunities for members.
Find out more about this event
---