Introduction to RailReview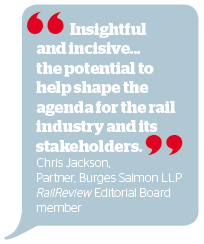 Welcome to the innovative new service from RAIL for business decision-makers who want to understand the strategic, political, financial and operational challenges facing the rail industry.
RailReview is uniquely created and curated by the most influential names in the UK rail industry. The key strategic issues are discussed and debated, providing the most rigorous and insightful analysis for you and your business.
A subscription to RailReview includes the quarterly journal in both print and digital formats, password protected access to the business tools hosted on the RailReview website and monthly delivery of rail industry media coverage via the RailReview monthly digest. You'll find more details of all of these products and services in the links below.
The Professional Insider package includes:
---